Jurassic World: Dominion Dominates Fandom Wikis - The Loop
Play Sound
This page does not adhere to the

layout guide

.

Please help the ABC Wiki by editing this page to be conform the set layout guidelines.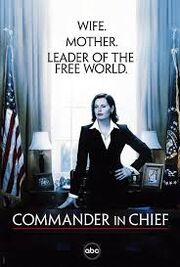 Commander in Chief is an ABC network drama television series created by Rob Lurie which aired from September 27, 2005 to June 14, 2006, lasting for one season & 18 episodes.
Plot
The series centered on Mackenzie Allen, who becomes the first female President of the United States after the death of the sitting President from a sudden cerebral aneurysm.
Cast
Main Cast
Geena Davis as President Mackenzie Allen
Donald Sutherland as Nathan Templeton
Harry Lennix as Jim Gardner
Kyle Secor as Rod Calloway
Ever Carradine as Kelly Ludlow
Mark-Paul Gosselaar as Richard "Dickie" McDonald
Matt Lanter as Horace Calloway
Caitlin Wachs as Rebecca Calloway
Jasmine Jessica Anthony as Amy Calloway
Recurring Cast
Peter Coyote as Vice-President Warren Keaton
Polly Bergen as Kate Allen
Matt Barr as Mike Fleming
Anthony Azizi as Vince Taylor
Natasha Henstridge as Jayne Murray
Julie Ann Emery as Agent Joan Greer
Ratings
"Commander in Chief" had good ratings initially, but they started to wane in subsequent weeks.
The series went on hiatus after its January 24, 2006 episode and in its place, ABC promoted the series "Sons and Daughters" and it was scheduled to return on April 18, 2006.
However, on March 26, 2006, ABC announced that "Commander in Chief" would return on April 13, 2006 and move from its 9:00 p.m. slot on Tuesdays to a 10:00 p.m. on Thursdays (which directly competing with "Without a Trace" on CBS and "ER" on NBC).
Some media experts thought that ABC was hoping that the show could be saved by gaining viewers from the surprise reality hit series, "American Inventor" aired right before "Commander in Chief."
However, "American Inventor" saw its ratings drop by half and proved to be a weak lead in to "Commander in Chief."
The show's return on April 13th was met by low ratings in its new time slot.
On May 2, 2006, "Commander in Chief" pulled the series from its line-up and announced on May 13th that it had been cancelled. The remaining three episodes of the season were broadcast after the ratings year had ended.
Reception
Reason magazine charged that the series glorified the "Imperial Presidency" and that it favored using government force to impose the personal values of some Americans on others who disagreed with them and to impose the values of those Americans on the rest of the world.
Negative comparisons were drawn with "24"'s black president David Palmer, as while in that show a black president was depicted as having been voted into office under normal circumstances, Commander in Chief's storyline showed a female president only coming into the presidency because the existing president dies in office.
On the day the series premiered, Davis was reported to have said in an interview, "This is a show about every aspect of the life of a person who is president, the personal side and the public side."
A November 2005 review in USA Today noted that the show's focus was more on Allen's family than world or national political events; in the same review, Allen's leadership style was compared and contrasted favorably with that of Josiah Bartlet of "The West Wing."
A reviewer for United Features Syndicate wrote that "While 'Commander' avoids the overt wonkery of 'West Wing,' it also fails to give its audience much credit for knowing history or current events."
The episode "Ties That Bind" generated further controversy and negative press in its fictional depiction of the bordering suburb of Hyattsville, Maryland, as having one of the fastest growing crime rates in the United States. It also indirectly depicted the town as being an urban ghetto dominated by poor minorities.
The city and Prince George's County were very upset at ABC and somewhat surprised as well at this depiction; in reality, the city is ethnically mixed, middle-income and mostly suburban in density and character.
On May 1, 2006, ABC formally apologized to both the city and county.