Jurassic World: Dominion Dominates Fandom Wikis - The Loop
Play Sound
This page does not adhere to the

layout guide

.

Please help the ABC Wiki by editing this page to be conform the set layout guidelines.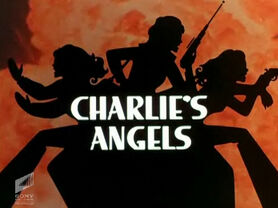 Charlie's Angels is an ABC network crime drama series, created by Ivan Goff & Ben Roberts and produced by Aaron Spelling.
The show premiered on September 22, 1976 and originally starred Farrah Fawcett, Kate Jackson & Jaclyn Smith in the lead roles, but later additions to the cast were Cheryl Ladd, Shelley Hack and Tanya Roberts.
Even though "Charlie's Angels" received mixed reviews from critics, the show enjoyed huge popularity with audiences & became a top 10 hit in the Nielsen ratings during its first two seasons.
By the third season, the show fell from the top 10 and by the 4th season, ratings declined. After the show's fifth season, "Charlie's Angels" was cancelled on June 24, 1981 after 110 episodes.
These days, "Charlie's Angels" continues to have a cult and pop culture following through syndication, DVD releases and subsequent TV & film remakes.
Plot
"Charlie's Angels" was about the adventures of three women working in a private detective agency in Los Angeles, California.
In the show's initial concept, Sabrina Duncan, Jill Munroe, and Kelly Garrett have graduated from the police academy in Los Angeles, California. Despite proving their capability during training, all three have subsequently been assigned to be a meter maid, office worker and crossing guard, respectively.
Dissatisfied with these jobs, they are recruited to work for the Townsend Agency as private investigators. All of this is explained in the opening credit sequence; neither the pilot film nor subsequent series ever actually depicted an "origin story" as they are seen to have been working as investigators for some time as of the start of the pilot.
Their boss, Charles "Charlie" Townsend (who nicknames them "Angels") is never seen full-face, but is often seen from the back, mostly in the company of beautiful women. He gives the Angels and his associate John Bosley their assignments via a Western Electric Speakerphone; he never meets them face-to-face, which leads to recurring queries from the Angels as to when or if he will ever join them on assignment.
In the second season, San Francisco police academy graduate Kris Munroe takes the place of her older sister, Jill in the trio.
In the fourth season, Tiffany Welles, a Boston police academy graduate, takes Sabrina's place.
In the show's fifth and final season, model-turned-private investigator in training Julie Rogers fills the void left after Tiffany's departure when she is given a temporary private detective license.
Cast
Kate Jackson as Sabrina Duncan (1976-1979)
Farrah Fawcett as Jill Munroe (1976-1977)
Jaclyn Smith as Kelly Garrett (1976-1981)
Cheryl Ladd as Kris Munroe (1977-1981)
Shelley Hack as Tiffany Welles (1979-1980)
Tanya Roberts as Julie Rogers (1980-1981)
David Doyle as John Bosley (1976-1981)
John Forsythe as Charlie Townsend [voice] (1976-1981)
Cast Changes
Over the course of its five-year-run, "Charlie's Angels" had a series of highly publicized cast changes.
The first of the cast changes took place in the spring of 1977, just after the conclusion of the first season.
Pivotal series actress Farrah Fawcett turned in her resignation just before the season one finale aired on May 4, 1977, commenting she wished to embark on a film career. ABC and show producer Aaron Spelling thought the exit of Fawcett, the show's most valuable asset, would knock the series off balance.
During the 1977 summer hiatus of the series, ABC and Farrah Fawcett entered a legal battle over her contract.
At the beginning of the series, all three female leads signed five-year contracts, and the network was insistent that they live up to their commitments. Business partners Leonard Goldberg and Aaron Spelling tried intensively to work out a deal with Fawcett and her agents.
Goldberg and Spelling had arranged for her to make one theatrical film during her summer hiatuses and her choice over subsequent television shows and miniseries. ABC even agreed to raise her salary from $5,000 to $8,000 a week, but she declined the offers.
ABC reluctantly released her from her series contract in the summer of 1977. However, she was assigned to another contract with ABC, stating that since she left her contract four years early that she would return to the series later on in its run for six guest appearances.
Fawcett would return as Jill Munroe on Charlie's Angels for three guest appearances in season three. She again returned for three guest spots in season four in what turned out to be her final appearances on the show.
As Fawcett departed the series, ABC began searching for her replacement. Executives eventually noticed singer-turned-actress Cheryl Ladd and offered her a screen test. Initially, Ladd refused the opportunity for a screen test, but after lobbying from studio executives, she relented.
Although executives noticed Ladd was inexperienced, they saw promise in her performance and signed her to a four-year contract. In an effort to keep the hype the series had with Fawcett, Ladd was written in the series as her sister, San Francisco police academy graduate Kris Munroe.
Despite a mixed reception from critics at the beginning of season two in September 1977, Charlie's Angels lost just a small percentage of its season one audience with the introduction of Ladd, but Kate Jackson believed the inclusion of Ladd damaged the series considerably. Jackson and Ladd reportedly never got along with one another.
Ratings remained steady throughout the third season.
Kate Jackson began to complain about the show's diminishing script quality and stated that initially the series focused on "classic detective work", but had become more of a "cop story of the week".
During the third season, Jackson was cast as Joanna Kramer in the 1979 film "Kramer vs. Kramer" with Dustin Hoffman, but the producers refused to reorganize the shooting schedule to allow Jackson time off to shoot the film. The part of Joanna ultimately went to Meryl Streep, who won an Academy Award for her performance. Upset by this situation, Jackson decided to leave the series.
Casting calls for Jackson's replacement began during the summer of 1979 and several up-and-coming actresses were considered for the role such as Barbara Bach, Connie Sellecca, Shari Belafonte & newcomer Michelle Pfeiffer. Although considered for the part, Bo Derek and Melanie Griffith did not audition. Pfeiffer was a personal favorite with most of the producers, however, her screen test showed her inexperienced acting talents and she was passed over for the part.
ABC producers noticed Charlie perfume girl Shelley Hack in an ad and cast her as Jackson's replacement. Hack debuted in the fourth-season premiere as Tiffany Welles, an elegant police graduate from Boston.
In hiring Hack, Spelling's priority for season four was to "bring back the glamour" while ABC hoped Hack's sophisticated personality would bring an interesting new mystique and intrigue to the series. However, Hack's performance received disappointing reviews from critics and the series lost 40 percent of its audience during her time on the series.
Television host Johnny Carson said that Charlie's Angels was supposed to be "Jiggle TV" and that "When Hack's 'A' (ass) is put where her 'T' (tits) should be, it still doesn't jiggle."
To revitalize the show and regain popularity, ABC released Shelley Hack from her contract in February 1980. In a People magazine interview, Hack told reporters, "They can say I didn't work out, but it isn't true. What happened was a network war. A business decision was made. Change the timeslot or bring on some new publicity. How to get publicity? A new Angel hunt. Who is the obvious person to replace? I am—the new kid on the block."
During casting calls for Hack's replacement, some two thousand candidates were auditioned.
After a series of false commitments, ABC selected model and former dance instructor, Tanya Roberts. Roberts was pictured on the cover of People magazine and featured in an article surrounding the series. The article, entitled "Is the Jiggle Up?", asked if Roberts could save Charlie's Angels from cancellation. Executive Brett Garwood stated, "We hope to keep the show going for next year, but nothing's certain."
Roberts debuted in the fifth-season premiere as Julie Rogers, a streetwise fighter and model, but the season premiere episode drew mild ratings.
Reception
Critical Reception
"Charlie's Angels" became known as "Jiggle TV" and "T&A TV" (or "Tits & Ass Television") by critics who believed that the show had no intelligence or substance and that the scantily or provocatively dressed Angels (generally as part of their undercover characters including roller derby girl, beauty pageant contestant, maid, female prisoner or just bikini-clad) did so to showcase the figures and/or sexuality of the actresses as a sole means of attracting viewers.
Farrah Fawcett once attributed the show's success to this fact, saying: "When the show was number three, I figured it was our acting. When it got to be number one, I decided it could only be because none of us wears a bra."
Camille Paglia, an American academic and social critic, said that "Charlie's Angels" was an "effervescent action-adventure showing smart, bold women working side by side in fruitful collaboration."
Public Reception
The show proved to be a runaway hit in the 1976–77 season in its first of five time slots, Wednesdays at 10:00pm, where it followed "Baretta".
Facing little competition from CBS and NBC, "Charlie's Angels" finished fifth in Nielsen ratings in the spring of 1977 with an average 26.0 rating. The three lead actresses were suddenly propelled to stardom, with Kate Jackson later commenting that the first few months were like being in the eye of a storm.
Farrah Fawcett became hugely popular and was branded a phenomenon. However, the situation off screen was not as rewarding. The long working hours on set, combined with numerous calls for photo shoots, wardrobe fittings and promotional interviews, took their toll on the trio.
Kate Jackson was especially unhappy as she felt the quality of scripts was declining and the format was now more "cop story of the week" rather than classy undercover drama, which had been the intention with the pilot film.
With season two, the series moved up an hour to the Wednesday 9:00pm time slot, where it stayed for three years. During that time, the series competed with such popular shows as "One Day at a Time", "The Jeffersons" and "Diff'rent Strokes". The transition from Fawcett to Cheryl Ladd in the second season proved to be popular with viewers.
While viewership dipped marginally in the second season, "Charlie's Angels" still remained in the top five for the 1977–78 season, placing fourth in the ratings, tying with 60 Minutes and "All in the Family".
In the show's third season, viewership stabilized, but the series began losing traction as it ranked twelfth behind newcomers Mork & Mindy, The Ropers and Taxi for the 1978–79 season.
With Kate Jackson's departure and Shelley Hack entering the cast, the show's fourth season saw some ratings erosion as it ranked seventeenth for the 1979–80 season.
The fifth season saw the final cast change with Tanya Roberts and final season was plagued by the 1980 actors' strike, causing a delayed premier date. In addition, the series was shuffled around with three different time slots: Sundays at 8:00pm, Saturdays at 8:00pm, and finally Wednesdays at 8:00pm where it remained for the remainder of its run.
Despite generally receiving mild competition from its rival networks on these time slots, "Charlie's Angels" placed fifty-ninth out of sixty-five shows for the 1980–81 season and ABC thereby canceled the series after five seasons and 110 episodes.