Jurassic World: Dominion Dominates Fandom Wikis - The Loop
Play Sound
This page does not adhere to the

layout guide

.

Please help the ABC Wiki by editing this page to be conform the set layout guidelines.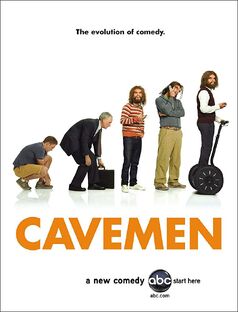 Cavemen is an ABC network sitcom series created by Joe Lawson, based on the GEICO insurance "Cavemen" commercials.
The show aired from October 2 to November 13, 2007, lasting for one season & 13 episodes. It was produced by Double Vision Productions, Television 360 and ABC Studios.
Plot
Set in San Diego, California, the series centered on the lives of three cavemen (Nick, Andy and Joel).
Cast
Main Cast
Bill English

as Joel Claybrook

Nick Kroll

as Nick Hedge

Sam Huntington

as Andy Claybrook

Kaitlin Doubleday

as Kate McKinney

Jeff Daniel Phillips

as Maurice

Stephanie Lemelin

– Thorne

Julie White

as Leslie McKinney
Recurring Cast
John Heard

as Tripp McKinney

Evan Shafran

as Nathan

J. P. Manoux

as Glen

Kim Director

as Heather

Stephanie Courtney

as Diane
Production
Conception
In March 2007, ABC gave a pilot order to a script written by Joe Lawson which was inspired by the GEICO Cavemen advertisements.
Lawson would be executive producer alongside Guymon Casady, Daniel Rappaport, Josh Gordon & Will Speck. Gordon and Speck directed the pilot.
During that same month, Bill Martin and Mike Schiff joined the staff as executive producers. On May 11, 2007, ABC gave the series an early pick-up and a 13-episode order.
Casting
When the pilot was approved by the network in March, it was unclear if the original actors, Jeff Daniel Phillips and Ben Weber, who played the cavemen in the advertisements, were going to be part of the series; however, this was not to be when it was later reported that Nick Kroll, Kaitlin Doubleday, and Bill English had all landed roles in the series in the same month.
Dash Mihok and Stephanie Lemelin were respectively cast in April as Jamie, Joel's younger brother, and Thorne, a party girl.
John Heard rounded out the regular cast when he was chosen to play Trip in the same month. Mihok was replaced by Sam Huntington and the character of Jamie was renamed Andy in July.
Tony Award winner, Julie White, was also promoted to a regular cast member as Kate's mother in the same month.
In July 2007, it was announced that Jeff Daniel Phillips had been cast for the series; he subsequently appeared in the first broadcast episode playing Maurice, a friend of the three main characters.
Pilot episode controversy
The initial limited screening of the pilot episode of "Cavemen" was met with a less than favorable reception. The pilot was accused of being racist because some critics thought the Cavemen were being used as a metaphor for blacks and other minorities.
The series subsequently underwent a major creative "retooling", which included changing the show's venue from Atlanta, Georgia to San Diego, California. The pilot episode has remained unaired on ABC.
Reception
In terms of reception from the media, "Cavemen" was "critically savaged."
The Chicago Tribune listed it as one of the 25 worst TV shows ever; Adam Buckman of the New York Post declared the show "extinct on arrival."
Ginia Bellafante of The New York Times wrote: "I laughed. But I laughed through my pain. 'Cavemen,' set in some version of San Diego where people speak with Southern accents, doesn't have moments as much as microseconds suspended from any attempt at narrative."
However, other critics were more forgiving. Pulitzer Prize-winning columnist Dorothy Rabinowitz said that the show "has its charms... The chief source of that charm is the unmistakable hint of wit in the writing. Only a hint – but it's steady, which is enough to seduce."
In 2010, TV Guide Network listed the show at #22 on their list of "25 Biggest TV Blunders", arguing that basing a TV show on a commercial was a bad idea from the beginning.