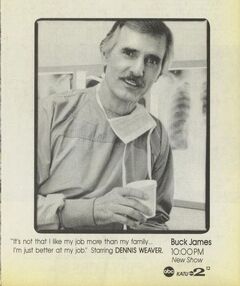 Buck James is an ABC network medical drama series created by Paul F. Edwards, starring Dennis Weaver in the lead role.
The show aired from September 27, 1987 to May 5, 1988, lasting for one season & 19 episodes.
It was produced by TriStar Television and Columbia Pictures Television.
Plot
The series centered on trauma surgeon Buck James, who works at Holloman University Hospital in Texas and has a passion for ranching as well.
Cast
Dennis Weaver as Buck James
Alberta Watson as Rebecca Meyer
Shannon Wilcox as Jenny James
Jon Maynard Pennell as Clint James
Dehl Berti as Vittorio
John Cullum as Henry Carliner
Elena Stitiler as Dinah James
Perry Anzilotti as Myron
Sam Anderson as Elias Turner