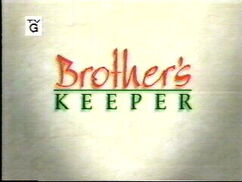 Brother's Keeper is an ABC network sitcom series created by Donald Todd which aired from September 25, 1998 to May 14, 1999, lasting for one season & 23 episodes.
Plot
Single father and English professor Porter Waide's life changes after his immature, professional football player brother, Bobby moves into his home to live with Porter & his 8-year-old nephew, Oscar.
Cast
Main Cast
William Ragsdale as Porter Waide
Sean O'Bryan as Bobby Waide
Justin Cooper as Oscar Waide
Bess Meyer as Dena Draeger
Recurring Cast
Natasha Slayton as Rose
Kate Hodge as Marilyn
Production
The show was produced by Axelrod-Widdoes Entertainment and Donald Todd Productions in association with Studios USA Television.
Show creator Donald Todd served as the executive producer and showrunner of the series, alongside non-writing executive producers Jonathan Axelrod and James Widdoes (the latter of whom had also directed fifteen of the series' 23 episodes, including the pilot episode and the final episode of the first season, that effectively became the show's series finale, "The Duel").
Broadcast History
"Brother's Keeper" aired as part of ABC's TGIF comedy lineup on Friday evenings; despite this, some of the show's episodes featured decidedly more adult humor than the rest of the TGIF lineup, which otherwise targeted pre-teens and teenagers (though like most family sitcoms aired on TGIF, "Brother's Keeper" incorporated humor that would appeal to both adult viewers as well as to the lineup's target audience).
As such, the series was aired at 9:30 p.m. ET on Friday evenings and was one of two freshman series added to the block that season, along with the Mary-Kate and Ashley Olsen starring vehicle "Two of a Kind" (both series were joined by veteran TGIF shows, "Boy Meets World" and "Sabrina, the Teenage Witch").
Ratings\Cancellation
Despite respectable ratings, often winning the 9:30 p.m. timeslot in most demographics and averaging 10.7 million total viewers during its run (finishing the 1998-99 season #62 out of 155 primetime shows, tied with the CBS newsmagazine 48 Hours, according to Nielsen Media Research), "Brother's Keeper" was cancelled by ABC in May 1999.
Accolades
Year
Award
Category
Recipient
Result
1999
Young Artist Award
Best Performance in a TV Comedy Series – Supporting Young Actor
Justin Cooper
(Nominated)
Trevor Einhorn
(Nominated)
Best Performance in a TV Comedy Series – Supporting Young Actress
Natasha Slayton
(Nominated)
Community content is available under
CC-BY-SA
unless otherwise noted.