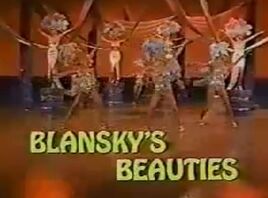 Blansky's Beauties is an ABC network sitcom and spin-off of "Happy Days" created by Garry Marshall and Jerry Paris, starring Nancy Walker, Caren Kaye, Lynda Goodfriend, Eddie Mekka, Scott Baio, Pat Morita and Blackjack.
The show premiered on February 12, 1977 and after airing only 13 episodes, it was cancelled on June 27, 1977.
Plot
The show centered on Nancy Blansky, a a long-time Las Vegas showbiz veteran who is currently a den mother to a bevy of beautiful Las Vegas showgirls. In addition to keeping order in the chaotic apartment complex where they all lived, she staged the girls' big numbers at the Oasis Hotel.
To help Nancy defray costs of her apartment, Ethel Akalino (known as Sunshine)  and Bambi shared it with her, along with her nephews Joey DeLuca, a choreographer and leering, 12-year-old ("going on 28"), Anthony DeLuca. Anthony was forever trying to impress Bambi, who much to his chagrin treated him like a kid brother, as did almost all of Nancy's girls. Emilio (Johnny Desmond), the maître d', was Nancy's boyfriend.
Also sharing Nancy's apartment was a huge Great Dane named Blackjack who was shown in the opening credits playing blackjack.
Cast
Nancy Walker as Nancy Blansky
Caren Kaye as Bambi Benton
Lynda Goodfriend as Ethel "Sunshine" Akalino
Johnny Desmond as Emilio
Eddie Mekka as Joey DeLuca
Scott Baio as Anthony DeLuca
George Pentecost as Horace "Stubbs" Wilmington
Taaffe O'Connell as Hillary S. Prentiss
Rhonda Bates as Arkansas
Bond Gideon as Lovely Carson
Gerri Reddick as Jackie Outlaw
Shirley Kirkes as Gladys "Cochise" Littlefeather
Antoinette Yuskis as Sylvia Silver
Jill Owens as Misty Karamazov
Elaine Bolton as Bridget Muldoon
Pat Morita as Arnold
Garry Marshall as "Mr. Smith"
Video
Community content is available under
CC-BY-SA
unless otherwise noted.