This page does not adhere to the

layout guide

.

Please help the ABC Wiki by editing this page to be conform the set layout guidelines.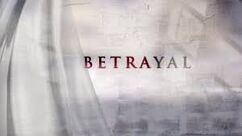 Betrayal is an American drama television series that aired on ABC from September 29, 2013, to January 19, 2014. The series was developed by David Zabel and starred Hannah Ware. It is based on the Dutch drama series Overspel, broadcast by VARA.
The pilot episode was directed by Patty Jenkins.Betrayal joined ABC's Sunday line-up after ABC's dramas, Once Upon a Time and Revenge.
Plot
The series stars Hannah Ware as Sara Hanley, a photographer, who begins an affair with Jack McAllister (played by Stuart Townsend), a lawyer for a powerful family.
Both married to other people, Jack and Sara find themselves drawn to one another. The premise also revolves around a murder trial, which involves both of them on separate sides which makes things even more complicated.
Cast
Hannah Ware as Sara Hadley
Stuart Townsend as Jack McAllister
James Cromwell as Thacher Karsten
Henry Thomas as T.J. Karsten
Chris Johnson as Drew Hadley
Wendy Moniz as Elaine McAllister
Elizabeth McLaughlin as Valerie McAllister
Braeden Lemasters as Victor McAllister
Video