Jurassic World: Dominion Dominates Fandom Wikis - The Loop
Play Sound
This page does not adhere to the

layout guide

.

Please help the ABC Wiki by editing this page to be conform the set layout guidelines.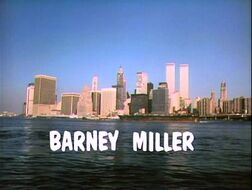 Barney Miller is an ABC network sitcom series created by Danny Arnold & Theodore J. Flicker, starring Hal Linden in the lead role.
The show aired from January 23, 1975, to May 20, 1982, lasting for eight seasons & 170 episodes.
It also spawned a spin-off series "Fish", starring Abe Vigoda.
Plot
Set in New York City, the series centered on the lives of the staff of police Captain Barney Miller in Greenwich Village's 12th Precinct station house.
Cast
Hal Linden as Captain Bernard "Barney" Miller
Barbara Barrie as Elizabeth Miller (1975–76)
Abe Vigoda as Sergeant Phillip K. Fish (1975–77)
Max Gail as Detective Stanley "Wojo" Wojciehowicz
Ron Glass as Detective Ron Harris
Jack Soo as Sergeant Nick Yemana (1975–79)
Gregory Sierra as Sergeant Miguel "Chano" Amanguale (1975–76)
James Gregory as Deputy Inspector Frank Luger
Steve Landesberg as Sergeant Arthur P. Dietrich (1976–82)
Ron Carey as Officer Carl Levitt (1976–82)
Production
The production of "Barney Miller" deliberately resembled a theatrical stage play; scenes rarely strayed from the precinct station's squadroom, with its prominent open-barred holding cell, and Miller's adjoining office.
The room was said to be on the second or third floor, depending on the episode. Clutter was plentiful and much of it seemed immobile over the years. Characters came and went, but almost always within the confines of the precinct.
A bare handful of episodes (fewer than a dozen of 170) were partially or fully set in other locations, including a stakeout location ("Stakeout"), a hospital room ("Hair"), an undercover operation ("Grand Hotel"), a jail (three separate rooms in "Contempt"), a hotel room ("Chinatown"), and the apartments of Barney ("Ramon") and ("Graft"), Chano ("The Hero"), Fish ("Fish") and Wojo ("Wojo's Girl").
In the episode, "The DNA Story," we see the inside of the men's room. Barney Miller tended to obey two of the three classical unities of drama: unity of place and unity of time. The third unity, unity of action, was not followed, since each episode had multiple subplots.
"Barney Miller" was one of the few sitcoms of the period that occasionally mentioned the then-current year or allowed the audience to infer the then-current year.
It was also notorious for its marathon taping sessions. Early seasons were recorded before a live studio audience and used a laugh track for sweetening reactions during post-production.
Creator and executive producer Danny Arnold would then rewrite and restage entire scenes after the audience departed, actively looking for quieter, subtler moments that would not play well before a crowd; a taping session that began in the afternoon or early evening would then continue into the early morning hours.
Max Gail referred to this in the Jack Soo retrospective episode aired on May 17, 1979, remarking that one of the clips shown was a scene that "we finished around 2:30 in the morning." In a 1977 blooper, a crew member mentions it being 3:15 a.m.
Employing a live audience became impractical as lengthy reshoots became commonplace. By Season 4, only a quiet laugh track was used when necessary.
Marty and Darryl were among the earliest recurring gay characters on American television. Danny Arnold worked closely with the Gay Media Task Force, an activist group that worked on LGBT representation in media, in developing the characters.
Initially both characters were presented in a stereotypically effeminate manner but in later appearances Darryl began dressing and speaking in a more mainstream fashion. Officer Zatelli's coming out was not the first gay storyline on American television, but was a memorable one.
"Barney Miller" took a while to become a hit, but ABC supported it anyway. Danny Arnold ended production of the show in 1982 after eight seasons for fear of repeating storylines; the show was not cancelled by the network.
Pilot
The show was born out of an unsold television pilot, "The Life and Times of Captain Barney Miller" (that aired on August 22, 1974, as part of an ABC summer anthology series, "Just for Laughs"). Linden and Vigoda were cast in their series roles; no other eventual cast members were present.
Abby Dalton played Barney Miller's wife, Liz, while Val Bisoglio, Rod Perry, and a pre-"Hill Street Blues" Charles Haid rounded out the cast of the pilot. Guest stars included Mike Moore, Chu Chu Mulave, Henry Beckman, Buddy Lester, Michael Tessier and Anne Wyndham.
The pilot script was later largely reused in the debut episode "Ramon". For this reworked episode, Bisoglio's lines were more or less evenly split between the new characters of Yemana and Chano, while Haid's character of Kazinski became Max Gail's Wojciehowicz.
Rod Perry's character, Sgt. Wilson, was replaced by Harris in the reworked episode, although Wilson would reappear one more time in the first-season episode Experience before disappearing from the series entirely.
Abby Dalton was replaced by Barbara Barrie as Liz, and Henry Beckman's character of Uncle Charlie was dropped entirely. The rest of the guest cast (Moore, Malave, Lester, Tessier and Wyndham) reprised their roles in the debut episode.
Unlike the remainder of the series, the pilot for "Barney Miller" was shot on film at CBS Studio Center, where the sets of the 12th Precinct and the Miller apartment were originally built.
When the show went into regular production in late 1974, it was recorded on videotape. The sets were moved to the ABC Television Center in Hollywood, where they remained until production ended in 1982.
The pilot episode of "Barney Miller" was never broadcast in syndication.
Accolades
"Barney Miller" won a DGA Award from the Directors Guild of America in 1981. The series won a Primetime Emmy Award for "Outstanding Comedy Series" in 1982, after it ended. It received six other nominations in that category, from 1976 to 1981.
The series won Primetime Emmy Awards for "Outstanding Writing in a Comedy Series" in 1980 (in addition to nominations in 1976, 1977 and 1982), "Outstanding Directing in a Comedy or Comedy-Variety or Music Series" in 1979, and was nominated for a number of others.
It also won Golden Globe Awards for "Best Television Comedy" or Musical Series in 1976 and 1977 (from a total of seven nominations) and won a Peabody Award in 1978.
In 2013, TV Guide ranked the show at #46 on its list of the 60 best series of all time.