This page does not adhere to the

layout guide

.

Please help the ABC Wiki by editing this page to be conform the set layout guidelines.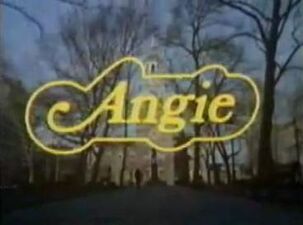 Angie is an ABC Kids sitcom created by Garry Marshall & Dale McRaven, starring Donna Pescow in the lead role.
The rest of the cast included Robert Hayes, Doris Roberts, Debralee Scott, Tammy Lauren, Diane Robin, Sharon Spelman and Tim Thomerson.
The show premiered on February 2, 1979 and after two seasons and 36 episodes, Angie was cancelled on September 4, 1980 and one episode was left unaired.
Plot
Philadelphia coffee shop waitress Angie Falco (Pescow) starts a romance with customer Bradley Benson (Hays), a pediatrician. While she assumes he is a struggling young doctor, he reveals that he is actually rebelling against his wealthy family, presumably residents in the Main Line region of the city's suburbs.
The other Falco family members are Angie's mother Theresa (Roberts) and her younger sister Marie (Scott).
Angie and Marie's father had walked out on the family many years earlier, but Theresa continued to set a place for him at the dinner table. Brad's relatives consist of his stuffy father Randall (John Randolph), his divorced sister, the overbearing Joyce (Sharon Spelman), and Joyce's daughter Hillary (Tammy Lauren). Angie forms a close bond with Hilary.
Angie and Brad later marry, merging their two very different families: the blue-blooded Bensons and the urban Italian-American Falcos.
The characters of Hilary Benson and Didi Malloy were not continued after the first season. Angie and Theresa later open a beauty parlor together, where they had to contend with a pleasure-seeking hairstylist, Gianni (Tim Thomerson).
Cast
Donna Pescow as Angie Falco Benson
Robert Hays as Brad Benson
Debralee Scott as Marie Falco
Doris Roberts as Theresa Falco
Sharon Spelman as Joyce Benson
John Randolph as Randall Benson
Diane Robin as Diedre "Didi" Malloy
Emory Bass as Phipps
Valri Bromfield as Mary Mary
Susan Duvall as Mary Grace
Nancy Lane as Mary Katherine
Tim Thomerson as Gianni
Tammy Lauren as Hillary
Promo