This page does not adhere to the

layout guide

.

Please help the ABC Wiki by editing this page to be conform the set layout guidelines.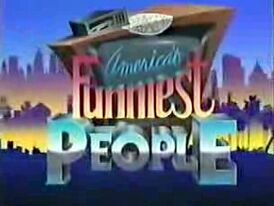 America's Funniest People is an ABC network reality series created by Vin Di Bona. The show first aired as an hour-long special on May 13, 1990, and later as a weekly half-hour prime time series from September 9, 1990 to August 28, 1994, lasting for 89 episodes.
It was hosted by Dave Coulier and Arleen Sorkin from 1990 to 1992; Tawny Kitaen replaced Sorkin in 1992, and the announcer was Ernie Anderson.
Format
The format was similar to "America's Funniest Home Videos", with the main difference that while "Funniest Home Videos" spent the majority of its time with accidental follies captured on tape, "Funniest People" focused on people intentionally trying to be funny, doing things such as telling jokes, doing impressions, singing, dancing, performing scripted material, attempting wacky stunts, pulling pranks, etc.
Like "Funniest Home Videos", "Funniest People" featured a contest for funniest video, with the first prize winner receiving $10,000 and the 2nd and 3rd prize winners receiving $3,000 and $2,000 respectively.
However, unlike "Funniest Home Videos" which relied on studio audience voting to determine the winner, "Funniest People" selected its winners via telephone vote for its first five episodes with the winners announced at the beginning of the next show; the show switched to having the studio audience select the winner afterwards, like its parent show. Also, unlike its parent show, there was no $100,000 grand prize finale.
Production
The pilot was called "America's Funniest... Part II" (though the opening titlecard actually said "America's Funniest People").
The host of the show, Dave Coulier (like "Funniest Home Videos" host Bob Saget) was also one of the stars of the popular sitcom "Full House" which was airing at the same time as the series.
The original logo (from the pilot episode) was a slight revamp of the AFHV logo. This was later changed when the series premiered.
Mary-Kate and Ashley Olsen from "Full House" made guest appearances, as they also did on "America's Funniest Home Videos".
The bulk of their visits to People took place once their collective popularity with kids and pre-teens took off. Their most notable appearance was in the fall of 1992, when they plugged their first single, "Brother for Sale", from the release of Mary-Kate and Ashley: Our First Video.
It was produced by Vin Di Bona Productions, even though at the end of the show's closing credits, it credited the company as Gina Communications, Inc. The show was originally taped at The Prospect Studios (then known as the ABC Television Center), on the same soundstage used for America's Funniest Home Videos at the time.
The show traveled to Universal Studios Florida in 1992, taping five shows at the Animal Actors Stage.
In 1992, Sorkin was dismissed by Vin Di Bona and in response, Sorkin filed a lawsuit against Di Bona, claiming that she was dismissed from the show due to her race, after ABC Chairman Dan Burke had suggested to Di Bona that Sorkin be replaced by an African-American or a person of another ethnic minority.
Sorkin sought $450,000 for lost earnings, and an additional unspecified amount for harm to her professional reputation and emotional injury. Sorkin additionally claimed that after she denounced the move as unfair, Di Bona changed plans and hired new cohost Tawny Kitaen, who is white.
For the show's third season in 1992, production moved to Universal Studios Florida for the entire 18-episode season.
The start of the 1993-94 season modified the show's title to "The New America's Funniest People" with an updated logo, and production moved back to Los Angeles, originating from Hollywood Center Studios.
This reflected the addition of new themed segments and the new practice of having a guest co-host (usually a star from another ABC series) join Coulier and Kitaen each week. However, these changes did not improve the show's falling ratings, and it was cancelled at the end of that season.
During the latter half of the show's run, and for at most until a year after it was canceled, short 30-second segments from "America's Funniest People" ran in commercial breaks during ABC's Saturday morning lineup. These would usually consist of excerpts from longer segments, usually featuring young kids telling jokes or engaging in stunts.
The show's premise would later integrate to AFV.