This page does not adhere to the

layout guide

.

Please help the ABC Wiki by editing this page to be conform the set layout guidelines.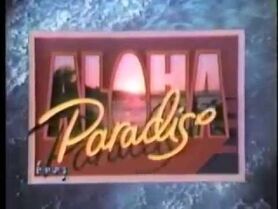 Aloha Paradise is an ABC network sitcom, created by Tom Greene and executively produced by Aaron Spelling & Douglas S. Cramer, starring Debbie Reynolds.
The show first premiered on February 25, 1981. It was largely panned by critics who compared it to The Love Boat and after 8 episodes, it was cancelled on April 22, 1981 due to low ratings.
Plot
"Aloha Paradise" follows the lives of the staff and guests at The Paradise Village resort, located on the coast of Kona, Hawaii.
Debbie Reynolds portrayed Sydney Chase, Paradise Village's manager and Bill Daily portrayed the resort's assistant manager Curtis Shea.
Other staff members included Fran (Pat Klous), the resort's social director, Mokihama as bartender Evelyn Pahinui, and Stephen Shortridge as lifeguard Richard Bean.
Each episode tells three or four stories about people either in love, out of love or looking for love.
Cast
Debbie Reynolds as Sydney Chase
Bill Daily as Curtis Shea
Pat Klous as Fran Linhart
Mokihana as Evelyn Pahinui
Stephen Shortridge as Richard Bean
Charles Fleischer as Everett