This page does not adhere to the

layout guide

.

Please help the ABC Wiki by editing this page to be conform the set layout guidelines.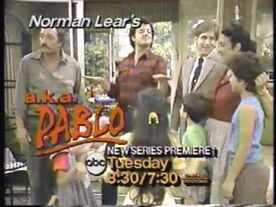 a.k.a. Pablo is an ABC Kids sitcom series created by Norman Lear (who also executively produced the show) & Rick Mitz, starring Paul Rodriguez in the lead role.
The series aired from March 6, 1984 to April 10, 1984, lasting for one season & 6 episodes.
Plot
The series centered on Paul Rivera, a struggling Hispanic stand-up comic and his large Mexican-American family,
Cast
Paul Rodriguez Sr. as "Paul" Pablo Rivera
Joe Santos as Domingo Rivera
Katy Jurado as Rosa Maria Rivera
Alma Cuervo as Sylvia Rivera
Martha Velez as Lucia Rivera Del Gato
Arnaldo Santana as Hector Del Gato
Bert Rosario as Manuel Rivera
Maria Richwine as Carmen Rivera
Hector Elizondo as José Sanchez/Shapiro
Edie Marie Rubio as Linda Rivera
Antonio Torres as Nicholas Rivera
Claudia Gonzales as Anna Maria Del Gato
Martha Gonzales as Susana Del Gato
Mario Lopez as Tomas Del Gato
Beto Lovato as Mario Del Gato
Michelle Smith as Elena Del Gato