Jurassic World: Dominion Dominates Fandom Wikis - The Loop
Play Sound
This page does not adhere to the

layout guide

.

Please help the ABC Wiki by editing this page to be conform the set layout guidelines.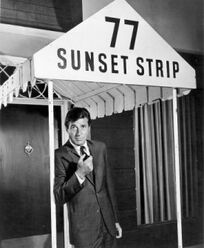 77 Sunset Strip is an ABC network private detective crime\drama series created by Roy Huggins.
The series aired from October 10, 1958 to February 7, 1964, lasting for six seasons & 206 episodes.
Plot
The show centered on private detectives Stu Bailey and Jeff Spencer working as private detectives in Los Angeles, California based out of an office located at 77 Sunset Strip.
Cast
Efrem Zimbalist Jr. as Stuart "Stu" Bailey
Roger Smith as Jeff Spencer
Edward Byrnes as Kookie
Richard Long as Rex Randolph
Louis Quinn as Roscoe
Jacqueline Beer as Suzanne
Robert Logan as J.R. Hale
Byron Keith as Lieutenant Gilmore
Joan Staley as Hannah (Season 6)
Production
Cast changes during seasons 1-5
When Edward Byrnes' demands for more money and an expanded role were not met, he left the show for a period in season two.
After an absence of 16 episodes beginning in January of 1960, Byrnes and Warner Brothers settled their differences, and Kookie came back beginning in May. (During his absence, Roscoe's and Suzanne's roles were beefed up to handle the leg work which were normally assigned to Kookie.)
For the 1960-61 season, Richard Long (who had previously been seen in different roles in two season one "77 Sunset Strip" episodes) moved over from the recently canceled detective series "Bourbon Street Beat".
His BSB character of Rex Randolph was said to have left New Orleans and relocated to North Hollywood, joining Bailey and Spencer's firm, and taking office 104. The character was dropped after one season, but Long (once again playing different one-shot guest characters) was seen again on "77 Sunset Strip" in seasons five and six.
Kookie became a full-fledged detective and partner in the firm as of season four, taking over Rex Randolph's office in 104.
At the same time, Robert Logan became the new parking lot attendant, J.R. Hale, who usually spoke in abbreviations. Hale was seen throughout seasons four and five.
The controversial sixth season (1963–1964)
In 1963, as the popularity of "77 Sunset Strip" began to wane, the entire cast was let go except for Zimbalist. Jack Webb was brought in as executive producer and William Conrad as a producer/director.
The character of Stuart Bailey was presented as a solo private investigator, with no continuity or reference to his past years with Jeff Spencer, Suzanne, Kookie, and Roscoe et al, or his military OSS background.
It was an abrupt, unexplained disconnect. The series and Bailey's personality took on a darker tone and the familiar office, parking lot and Dino's Lodge were gone. A new musical theme was written by Bob Thompson.
The season six show title was not changed, it still was an address, but Bailey's new office was dramatically different from Bailey and Spencer's 77 Sunset Strip office of the past five years.
The interior of Bailey's new office building was shown behind the show's opening and closing credits, forcing viewers to ponder how the same address could look so very different (it was actually the historic Bradbury building in downtown Los Angeles).
There seemed to be no spoken mention of his office address in the season six shows, although in the episode "Bonus Baby" when a police officer inspects Bailey's Private Investigator License, a close-up shows the address "77 Sunset Strip".
As the season progressed, there were some shifts in tone. Several episodes into the season, Bailey's stern personality became lighter, though still different from prior seasons. His secretary Hannah (who was previously known to sixth season viewers only because Bailey addressed her in his recorded dictations) was seen on-screen beginning in the season's eleventh episode.
Played by Joan Staley, Hannah worked in Bailey's office where he developed a romantic interest in her, but she continually frustrated him by playing hard-to-get.
As of the episode "Alimony League" (the sixteenth of the season's twenty episodes), the opening and closing background of Bradbury building was gone, replaced by Bailey in silhouette walking past lighted store windows.
The episode "The Target" was unusual because key roles were played by the show's primary behind-the-scenes people (who happened to also be experienced actors).
The show's producer William Conrad played "Maestrian", associate producer James Lydon played "Charlie", writer Tony Barrett played "Carnovan" and director Lawrence Dobkin played "Landers".
Season six of "77 Sunset Strip" was essentially a different show from what had aired in seasons one to five, a show that oddly used the title (and one character name and actor) from the different prior show, and showed a different building with the same address.
Viewers did not appreciate such a massive alteration, and the show was cancelled halfway through its sixth season in February of 1964.
In the 1964 summer reruns period, shows from the Bailey and Spencer years were shown; the season six episodes were abandoned and were rarely seen until September 2017 on the MeTV network.
Broadcast History
Friday at 9:30–10:30 pm on ABC: October 10, 1958 – May 29, 1959; October 12, 1962 – June 14, 1963
Friday at 9:00–10:00 pm on ABC: October 2, 1959 – June 29, 1962
Friday at 7:30–8:30 pm on ABC: September 20, 1963 – February 7, 1964